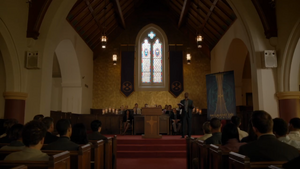 The Greatest Day is a religion, founded by the Hosts. People in this religion, believes that the Hosts are here to help. It is based on The Hosts and The Arrival and attempts to merge all other religions into one.
After the Arrival a new religion was created and this religion appears to encourage people to believe that the Hosts are Gods. Lindsey is part of this religion.
Lindsey wears a lapel pin, that appears to be the same as the symbol for The Greatest Day, and Lindsey regularly attends church services along with other members of the Los Angeles Colony.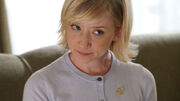 They also believe in "The Greatest Day" (which sounds similar to Alan Snyder's "Greatest Day In History") and believe that children will somehow have a big part to play in that day.
"Brother" Nolan Burgess and Madeline Kenner are prominent members of the religion.
Known Members
Edit
Ad blocker interference detected!
Wikia is a free-to-use site that makes money from advertising. We have a modified experience for viewers using ad blockers

Wikia is not accessible if you've made further modifications. Remove the custom ad blocker rule(s) and the page will load as expected.