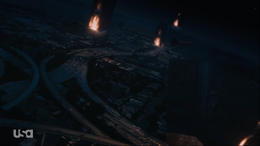 The Arrival was an invasion by a mysterious occupying force which has occupied Los Angeles and possibly the world. The Arrival began in November 13, which was seen in an episode, Eleven.Thirteen, the title of the same date.
During the Arrival, the mysterious force, which later became known as The Hosts, took over Los Angeles, California, and possibly the world, with the exception of Miami, Florida for vague environmental reasons.
The Arrival in Los Angeles took about eight hours according to Phyllis. A number of people, including FBI and CIA agents, were eliminated during the Arrival. Snyder jokes that the drones killed his congressman, but (as with many things concerning the Proxy Governor) it's unclear if this is true or if all politicians were also targeted.
Ad blocker interference detected!
Wikia is a free-to-use site that makes money from advertising. We have a modified experience for viewers using ad blockers

Wikia is not accessible if you've made further modifications. Remove the custom ad blocker rule(s) and the page will load as expected.