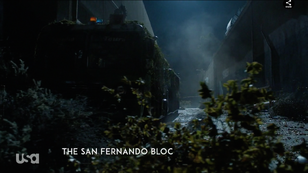 San Fernando, California, is an occupied city in the San Fernando Valley.
Not much is known about the state of San Fernando after The Arrival, we do know that it is occupied and that the Blackjacks operate there. They are seen in S02E10 "The Garden of Beasts" collecting people and putting them in pods.
Before the Arrival
Edit
San Fernando is a city located in the San Fernando Valley, in the northwestern region of Los Angeles County. It is completely surrounded by the City of Los Angeles.
The city was named for the nearby Mission San Fernando Rey de España, and was part of the Mexican land grant of Rancho Ex-Mission San Fernando. In 1874 Charles Maclay, San Fernando founder, bought 56000 acres of the Rancho. In 1882, cousins George K. Porter and Benjamin F. Porter of future Porter Ranch each received one-third of the total land. In 1885, Maclay founded the Maclay School of Theology, a Methodist seminary in his newly founded town of San Fernando.[1] After his death it became an affiliate and moved to the campus of the University of Southern California and then the Claremont School of Theology.
Most of the towns in the surrounding San Fernando Valley agreed to annexation by Los Angeles in the 1910s, eager to tap the bountiful water supply provided by the newly opened Los Angeles Aqueduct, but San Fernando's water supplies allowed it to remain a separate city.
As with much of the San Fernando Valley east of the San Diego Freeway, the city of San Fernando has seen a significant demographic shift in recent years; declining birth-rates, an aging population of middle-class caucasians, who once dominated the area in the 1950s, has contributed to the movement into other parts of the San Fernando Valley. There has also been movement into the Santa Clarita and Antelope Valleys to the north. Income levels have declined as a result. Latinos became the majority population. Since late 2004, the city has been going through a series of planning development projects, that can be defined as gentrification.
References
Edit
Ad blocker interference detected!
Wikia is a free-to-use site that makes money from advertising. We have a modified experience for viewers using ad blockers

Wikia is not accessible if you've made further modifications. Remove the custom ad blocker rule(s) and the page will load as expected.