The Global Transitional Authority (German: Vorläufige Globale Autorität), also known as the: Global Authority, Interim Global Authority, International Global Authority and the IGA, is a global agency that oversees people of the seniority of Helena Goldwin, a Governor General. It may also have been called the Institute for Global Advancement, before The Arrival.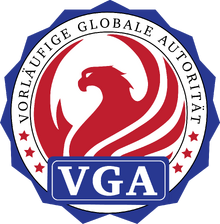 It's not known if there are humans who oversee the IGA or if The Hosts do this directly.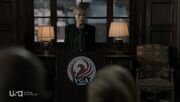 The existence of the organization was brought forth when Helena Goldwin gave evidence before a closed meeting in front of the podium which bears a logo with the title: "Vorläufige Globale Autorität",[1] or Provisional Global Authority (vorläufig can also be translated as "interim", or "transitional").[2] "Total Rendition" was avoided as a result of the resolution that was passed.
There's speculation on Reddit (reference above) that the Global Transitional Authority is based in Geneva, Switzerland at the Palace of Nations building, now the home of the United Nations Office at Geneva. The Chancellor seen leading the meeting in the episode is called the "Swiss Chancellor" in the program credits, which would seem to support the theory.
References
Edit
↑ S02E04 "Panopticon"
Ad blocker interference detected!
Wikia is a free-to-use site that makes money from advertising. We have a modified experience for viewers using ad blockers

Wikia is not accessible if you've made further modifications. Remove the custom ad blocker rule(s) and the page will load as expected.